Welcome to Angevine Farm
Celebrating 155 Years in the Angevine Family!
Experience the Magic of the Holiday Season
At Angevine Farm, we believe that selecting and cutting your own Christmas tree is more than just a holiday tradition—it's a special family experience that brings you joy, warmth and lifelong memories. Visit us and immerse yourself in the scents, sights, and sounds of the holiday season.
Reservations Required November 24, 25, 26 as well as December 2 & 3. Customers receive reservation priority and will be emailed reservation link on Wednesday, November 1st at 7am. If you are not on our mailing list, please CLICK HERE. We will post additional dates where reservations are not required.
We offer a variety of premium tree species, carefully nurtured and grown on our farm. Choose from our selection of Blue Spruce, Fraser Fir, Concolor Fir, Balsam Fir, Canaan Fir, and White Pine. Each tree is cultivated for 5-10 years with great care, ensuring excellent shape, color, and fragrance. (2023) – Limited selection of trees over 8 ft.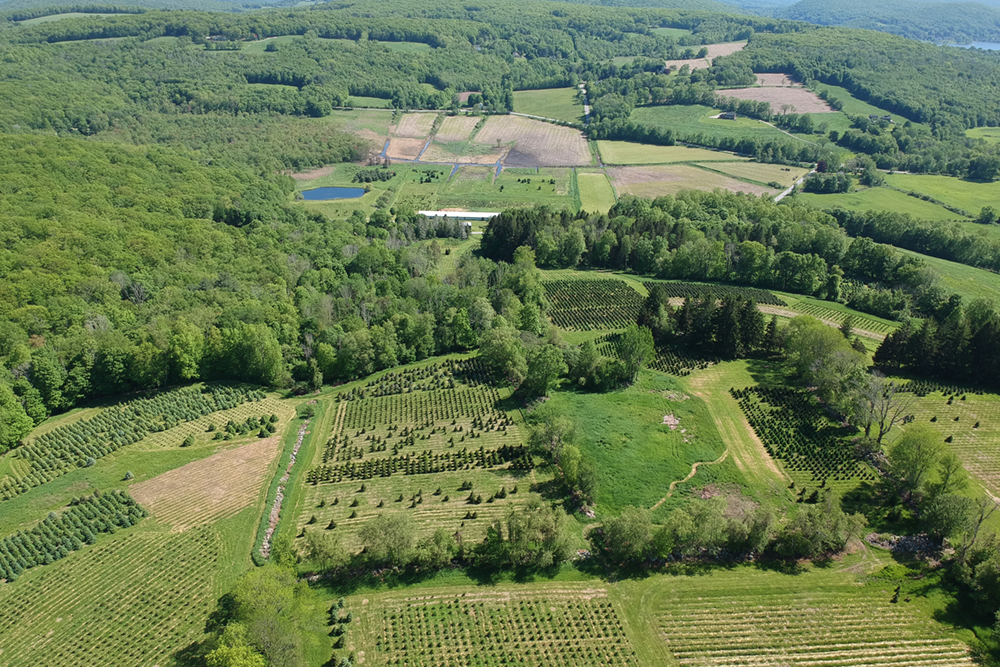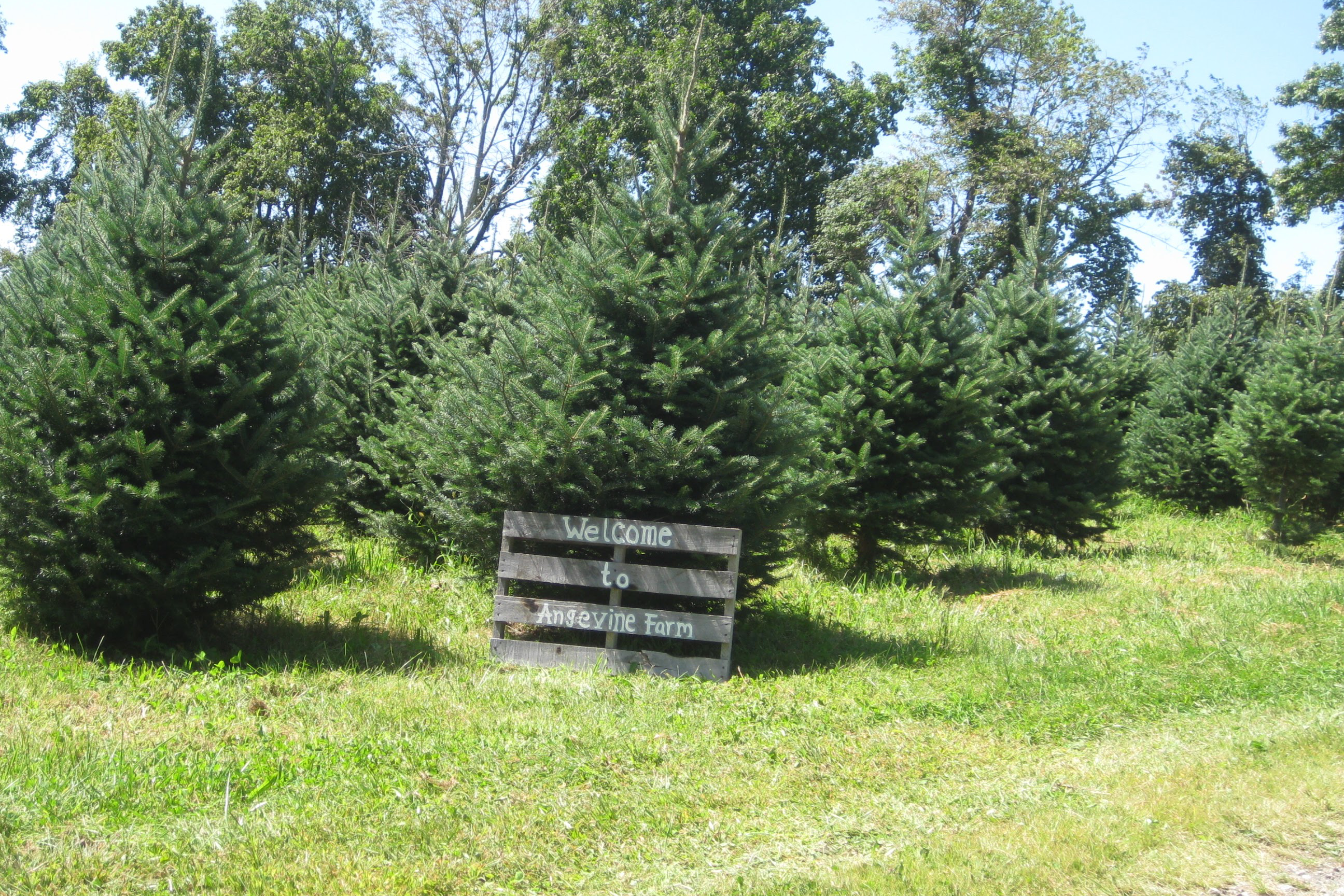 Embrace the adventure and excitement of harvesting your own Christmas tree at Angevine Farm. We provide the tools you need, including saws, and limited tree wagons, to venture into our tree fields and select the perfect tree for your home. No matter the size or type of tree you desire, our harvest-your-own option allows you to choose freely. Plus, all harvest-your-own trees are priced at $70.00, inclusive of tax, regardless of size. It's a great value!
Please keep in mind that Angevine Farm is a cut-your-own farm, so we recommend dressing appropriately for the weather conditions. Wear comfortable outdoor clothing and footwear suitable for walking through our tree fields. Don't forget to bring your helpers along to share in the excitement and joy of choosing a Christmas tree together.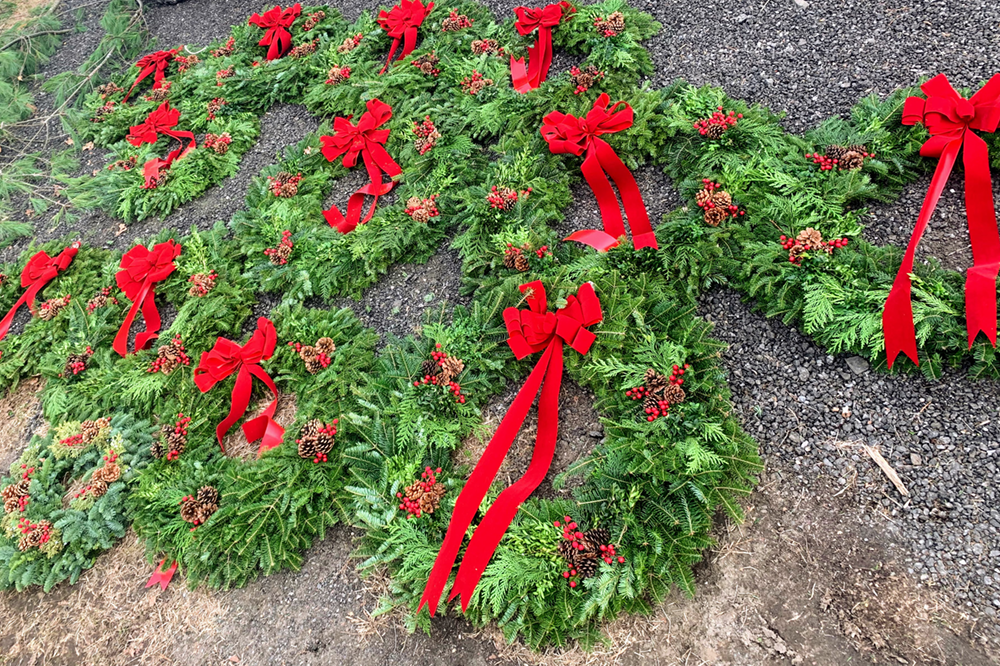 If you prefer a ready-to-go option, we offer a selection of freshly cut trees from our farm. These trees are carefully chosen and cut to maintain their freshness and beauty. Look for the marked trees in the lower farm to find the perfect one for your home. Prices of freshly cut trees vary depending on size and type.
Additional Services:
To make your experience even more convenient, we provide tree netting at an additional charge of $5.00. This service ensures that your tree is securely wrapped for easy transportation and helps protect it during transit and placing in stand.
Handmade Wreaths & Garlands
Gifts & Sweet Treats!
At Angevine Farm, we offer more than just Christmas trees. Take a break from tree hunting and enjoy the festive atmosphere in the Wreath Barn, or Christmas Barn Gift Shop. Warm up your holiday spirit with hot chocolate and local baked goods at the Yellow Farm Dog Café.
We look forward to welcoming you to Angevine Farm and helping you find the perfect Christmas tree to make your holiday season truly magical!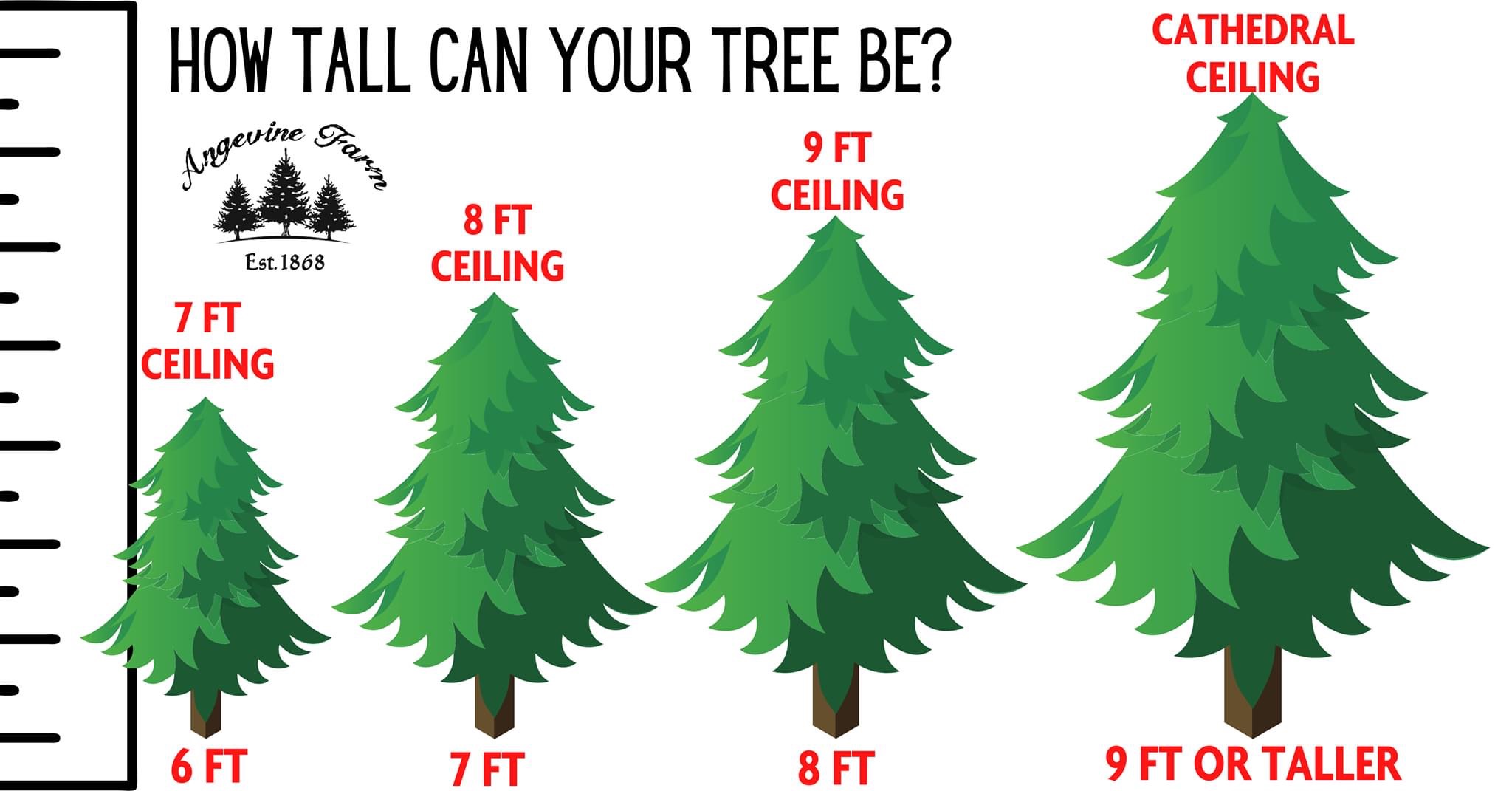 Tips for Choosing and Caring for Your Tree
When you find a tree that you like, do a freshness test to make sure that it's worthy to come home with you. Gently grasp a branch between your thumb and forefinger and pull it toward you. Very few needles should come off in your hand if the tree is fresh. Some loss of interior brown needles is normal and will occur over the lifetime of the tree.
Just before you set up your tree, make a fresh, straight cut across the base of the trunk (about 1/2 inch up from the original cut) and place the tree in a tree stand that holds a gallon of water or more. If you don't cut off some of the trunk, the tree won't be able to absorb water properly, and the live tree will dry out and become a fire hazard.
A tree will absorb as much as a gallon of water or more in the first 24 hours and one or more quarts a day thereafter. Watering your Christmas tree is important because it prevents the needles from drying and dropping off and the boughs from drooping. Water also keeps the tree fragrant. Do not add anything to the water.
Keep trees away from major sources of heat (fireplaces, heaters, heat vents, direct sunlight). Lowering the room temperature will slow the drying process, resulting in less water consumption each day.
Find a recycling program near you to dispose of your tree. 
Check for freshness on a daily basis.
If it's an Angevine Farm pre-cut, shake or bounce the tree on its stump. You shouldn't see an excessive amount of green needles fall to the ground.
Make sure your tree stand will hold enough water for the size of your tree. Measure the diameter of your tree trunk in inches — that's how many quarts of water your tree stand should be able to hold. (For example, if it measures 6 inches across, then you need a tree stand that can hold 6 quarts of water.) We do sell these types of stands at Angevine Farm. 
Once home, place the tree in water as soon as possible.
Check the stand daily to make sure that the level of water does not go below the base of the tree. With many stands, there can still be water in the stand even though the base of the tree is no longer submerged in water.
Use of lights that produce low heat, such as miniature lights, will reduce drying of the tree.
Always inspect light sets prior to placing them on the tree. If worn, replace with a new set.
Never burn any part of a Christmas tree in a wood stove or fireplace.
Recycle when possible. Check with your local officials in proper Christmas Tree recycling and removal requirements.
After you've chosen your live Christmas tree, keep it in a sheltered in an unheated area, such as a porch or garage, to protect it from the wind and sun until you are ready to decorate it. If you won't be decorating it right away, place the tree in a bucket full of water that you refill as needed. As you will see in the upcoming tips, watering your Christmas tree is critical for proper care and maintenance.
Keep the tree stand filled with water. A seal of dried sap will form over the cut stump in four to six hours if the water drops below the base of the tree. If a seal does form, you'll have to make another fresh cut, which is much harder to do when the tree's decorated.
Use a stand that fits your tree. Avoid whittling the sides of the trunk down to fit a stand. The outer layers of wood are the most efficient in taking up water and should not be removed.
Do not overload electrical circuits.
Always turn off the tree lights when leaving the house or when going to bed.
Monitor the tree for freshness. After Christmas or if the tree is dry, remove it from the house.
For safety, keep your tree away from all heat sources, such as fireplaces, radiators, baseboard heat, portable heaters, television sets, and heat vents and direct sunlight when possible. Not only can all of these can make the tree dry out faster, but can also contribute to setting a tree on fire.