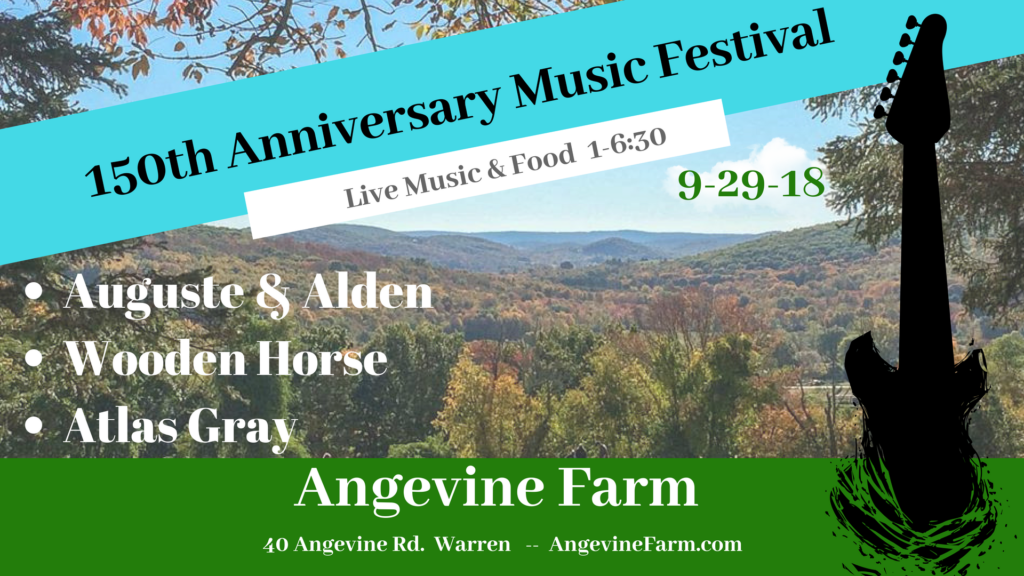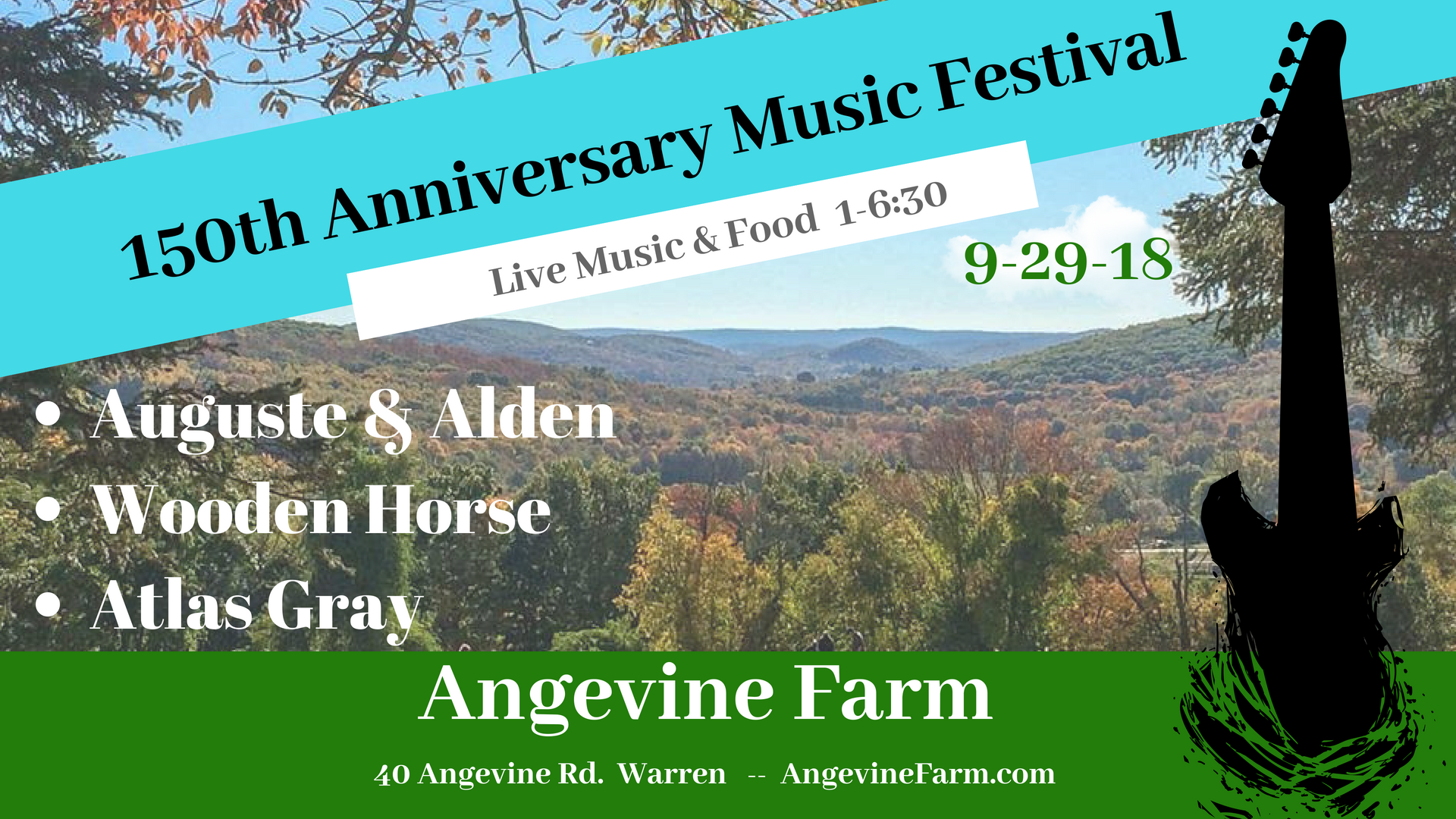 Angevine Farm's 150th Anniversary Music Festival

A Celebration of Family, Farming & Community
Saturday, September 29th – ~ Gates are open 12:00 – 6:45
Relax and unwind with family and friends at our beautiful outdoor venue with a stunning view of the Northwest Hills.  
Fantastic live music line up featuring August and Alden, Wooden Horse and Atlas Gray   
Enjoy delectable food and beverage options from food vendors including Iron & Grain that feature locally sourced menu items and wine/beer from local breweries and vineyards
Please order tickets early.  Due to a predicted perfect fall weather forecast, ticket are going fast.  Tickets will also be available at the door (Cash Only)
Unplug for a WIFI Free Day! 
There is NO cell service or WIFI available at the festival site, please plan accordingly – Food vendors and Angevine Farm table cannot accept credit cards – CASH ONLY please.
Join us in the Harvest Barn for Opening Day – featuring pumpkins, squash and unique gifts and artwork. Pumpkin patches in lower farm will be open. Harvest Barn will be open 10-5:00. 
FAQs
Advanced Tickets are on sale until September 15th. 


*Adults $20 – Advanced ticket offer includes FREE $5 Food Voucher and $5 pumpkin dollars                                                                                                      Kids 4 -12 $5
Kids 3 and Under Free

*Does not include minimum Eventbrite processing fee.

Day of Event – Cash Only 
Adults $20
Kids 3-12 $5
Kids 3 and Under Free

Yes, Sunday, September 30, but only if it's terrible weather! 
Keep an eye on our Facebook page for updates.


Chairs, blankets and cameras are suggested. 
No COOLERS or ALCOHOL can be brought in order to support our vendors.  

No! We LOVE our dogs, but due to the nature of this event, please keep your pups home. 


Yes, we will have 2 tents for shade and inclement weather. 

Yes, if you purchase your ticket online ahead of time, bring a printed copy to the event. Remember, there will not be cell service. 


No refunds – This is a rain or shine event.
A huge THANK YOU to our current sponsors for helping us share this event with our community.  Sponsorship opportunities are still available, if interested, send inquiry to Lisa@Angevinefarm.com